Chicken Curry Hash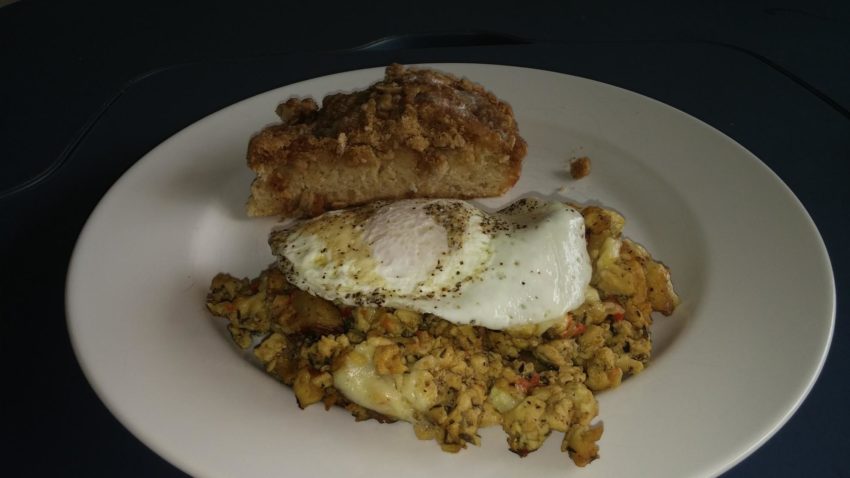 I like to think of all recipe's as starter recipe's.  I like to play with them, try different things.  This recipe was a turkey hash recipe that came out of the Nutri Ninja cookbook that came with my blender.  Here's my version:
1/2 medium onion, cut into 1″ chunks
1/2 red bell pepper, cut into 1″ chunks
2 cloves of garlic
1 lb chicken breast, cut into 1″ chunks
1 Tbsp olive oil
1 lb cooked potatoes (small red and yellow potatoes, we sauteed them)
3/4 cup low sodium chicken broth
1 tsp thyme
1 tsp curry
1 cup cheddar cheese (cut into 1/4″ pieces)
Salt & Pepper to taste
Cook your potatoes, boil or saute, we sauteed them, they were 1/4″ in size until they are done.  Use a food processor and lightly pulse the onion, red pepper, garlic and chicken until the pieces are about a 1/4″ size.  If you don't have a food processor, cut all of those ingredients into 1/4″ pieces.  Heat oil in a skillet and add mixture, saute for 8-10 minutes.
Add the cooked potatoes, chicken broth, thyme, salt, black pepper and cook for 10 minutes.  Preheat oven to 350.  Stir in your cheddar cheese, set in the oven and bake for about 10-12 minutes. When the hash is done, remove from the oven and cook a fried egg to place on top and serve.